Erich Von

Stroheim's

Greed Location Survives

In

San Francisco
The stately Victorian at 601 Laguna Street in San Francisco has seen a variety of uses since it was first built in the 1880s. It once housed a laundry, a drug store, and if the stores are true, a brothel. The second floor is now occupied by Hayes Valley Care, a retirement center, while the ground level features an Indian restaurant. For a few months in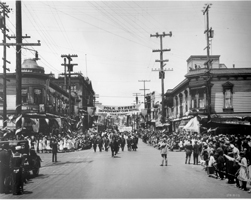 1923, it was the focus of intense media attention, a magnet for scores of magazine reporters. Today, it is distinguished by being the only major surviving set from Greed, the most brilliant, innovative, and controversial Hollywood movie of all time.
Erich Von Stroheim was the film's director, a man who was best known as "the man you love to hate" for his numerous screen portrayals of Teutonic villains. Hollywood also knew him as a brilliant director of such silent classics as Blind Husbands and Foolish Wives. He also gained the reputation for obsessive perfectionism and huge cost overruns. Greed, based on a novel by Frank Norris, was a cautionary tale on the corrosive effects of materialism.
 The central character is a self-taught dentist named McTeague (Gibson Gowland). When his wife Trina (Zasu Pitts) wins $5,000 in a lottery, their life begins to unravel.
 Von Stroheim insisted that the movie be shot on location using real buildings, not the standard breakaway sets. The main set was the Victorian at 601 Laguna, which the director found perfect for his needs. A second floor room that overlooked Laguna and Hayes was transformed into McTeague's Dental Parlor, complete with garish gold tooth sign. The movie was set in the decades before World War I, so the Victorian was festooned with beer and wine ads. Since this was the height of Prohibition, special permission had to be granted for such ads, however bogus, to be publicly displayed.
Realism became an obsession for the director. Hidden cameras often included "real" people in many scenes. In one celebrated incident, Zasu Pitts as Trina discovers a murder in an alley near the Victorian. While Von Stroheim's hidden camera rolled, Pitts ran out into Laguna in character, frantically flagging down passersby for help. A real crowd gathered, the police were summoned, and a reporter phoned in the "homicide" to his editor. In another incident, a car was reported for almost "running down" a man as he boarded a streetcar. The man was an actor, the vehicle Von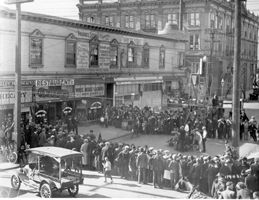 Stroheim's camera car.
Von Stroheim ended up with a film that was somewhere between 42 to 45 reels in length—about 9 hours long. Greed was started as a Goldwyn Studios picture, but by the time it was finished Goldwyn had merged with a new entity, Metro-Goldwyn-Mayer.
Studio chief Louis B Mayer hated the picture, and eventually it was cut to what was termed a more suitable "commercial length"—some 10 reels. It was this fragmentary version that was released in December, 1924
An appalled and distraught Von Stroheim disowned his mutilated "offspring," calling it the "skeleton of my dead child." By most reports the edited footage was destroyed, melted down for its silver content.
Greed became celebrated as a kind of lost American epic, one of the greatest films ever produced. In 1999 a 'restored" version of the movie was aired by Turner Classic Movies. This 239 minute version—99 minutes longer than the original 1924 release—was fleshed out with a extensive montage of stills.